Minimalist Bedroom Styling Ideas
This week we sat down with Tanya, Evolves head stylist to discuss her top minimalist must do's for bedroom styling. A bedroom should feel like a sanctuary, when a space is stripped down and clutter free to provide the perfect oasis and a tranquil interior. Scandi style is very minimalist with its clean lines, neutral palette and use of soft timbers such as oak. Tanya has six simple steps to achieve your Scandi home retreat.
Maximise Space with Open Furnishings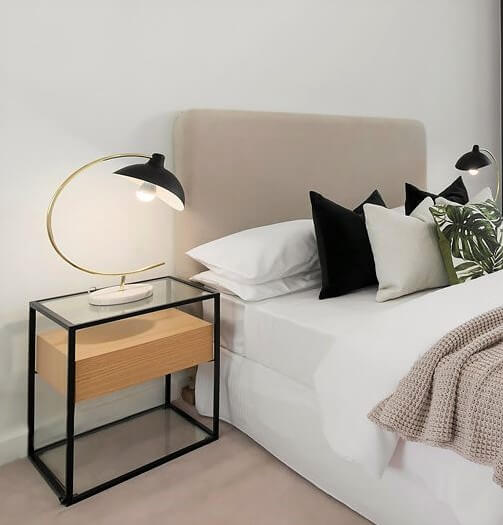 "Maximise your bedrooms space with clean aesthetics by using open bedsides and shelving. Use soft bedsides made of oak or white Carrara marble with black powder coated legs for more definition." Finish the look with small desk lamps rather than a traditional lampshade for a more interesting and modern look. Keep bedsides decluttered and style with a simple candle.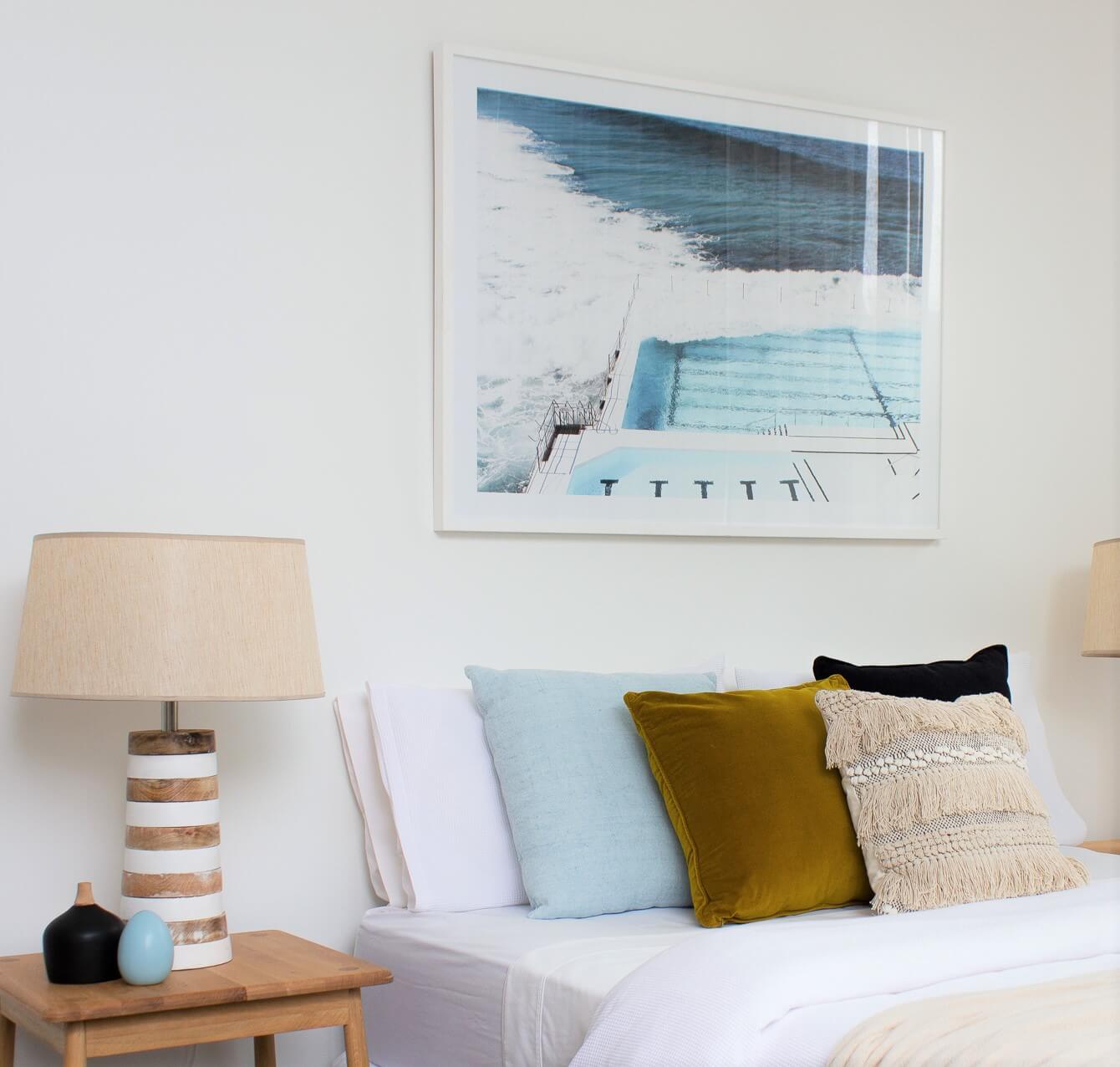 The key to minimalist style is not allowing the room to become too busy. "Choose a single focal point such as a piece of art or a mirror to hang over the bed." Choosing the focal piece early is crucial, as it allows you to build the room around this piece. Use a neutral base to draw colour from the art, cushions or a throw. If you went with a mirror you could choose the odd bronze, gold or silver accessory such as a vase or desk lamp base to match the mirror frame and tie it all together. Simplified harmony is the best way to achieve a tranquil space.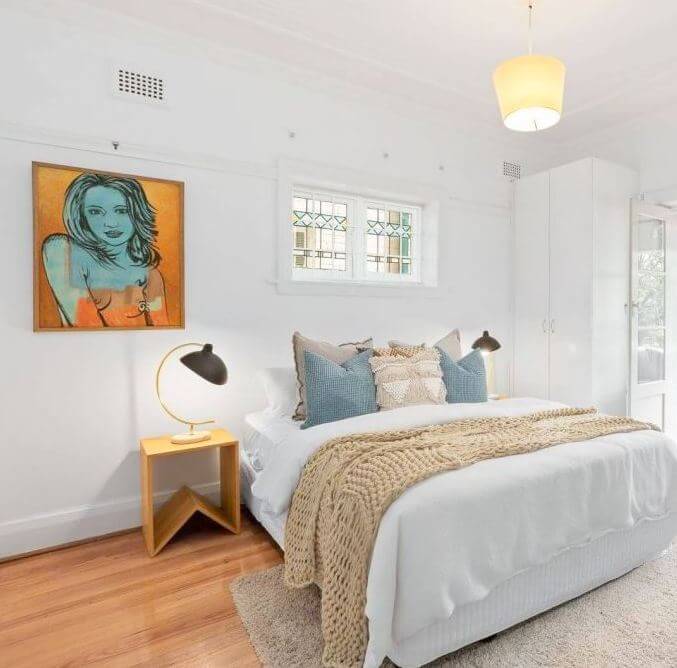 "Framing the space with a rug creates a luxurious look and anchors a room". Rugs add personality and warmth to a bedroom. Consider each element in the room when choosing a rug. Think about how the textures and colours will work with your existing furniture and accessories or your vision for your new interior. Start by measuring the space. If you have a small bedroom, you want the rug to be placed under the lower two thirds of the bed so not over power the space  or if you want to keep a contrast of textures with your natural floor boards. For a larger bedroom choosing a rug that is too small could throw out the balance of the space or leave half your bedside off the rug creating a wobbly surface. Aim to have the entire bedframe and bedsides under the rug area.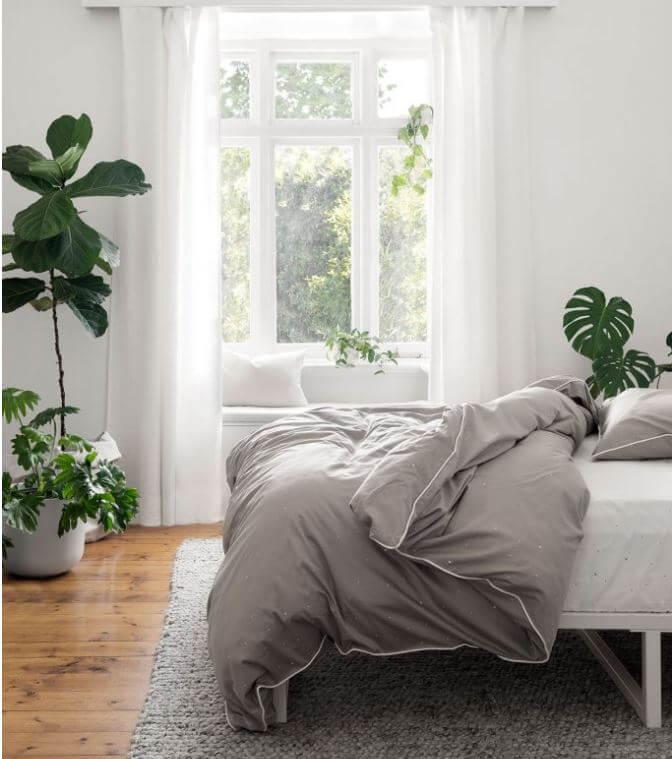 Photo Credit: Hunting for George
"Indoor plants and greenery create a calm space for relaxation as well as making your bedroom look brighter." Indoor plants are a simple interior design tip to instantly update, refresh and change the balance and mood in a room. Depending on the size of your room you could opt for floor plants or plants on a floor stand, for a smaller space a shelf plant or hanging plant is ideal. Before choosing your indoor plants, research the best plants for your living conditions. Some indoor plants need very little to no light whilst others need plenty. Some plants purify the air around them and may contribute to a better night's sleep.
Textured Rattan or Cane bedheads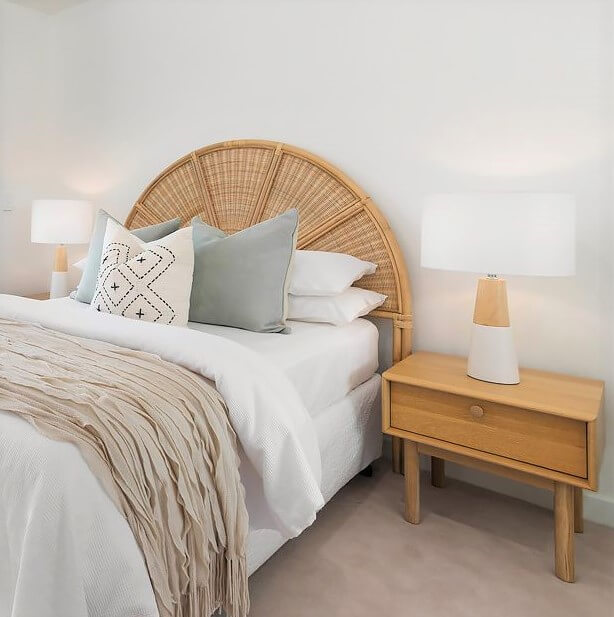 "Textured rattan or cane bedheads are a great way to add personality to a room without adding too much texture or fullness, plus they don't overpower small spaces." This minimalist nomadic piece adds neutral texture for an effortlessly stylish look. Sometimes all it takes in one hero piece to refresh a room and bring the look together. It is also a very versatile piece and can be used in a variety of interior styles over the years to come.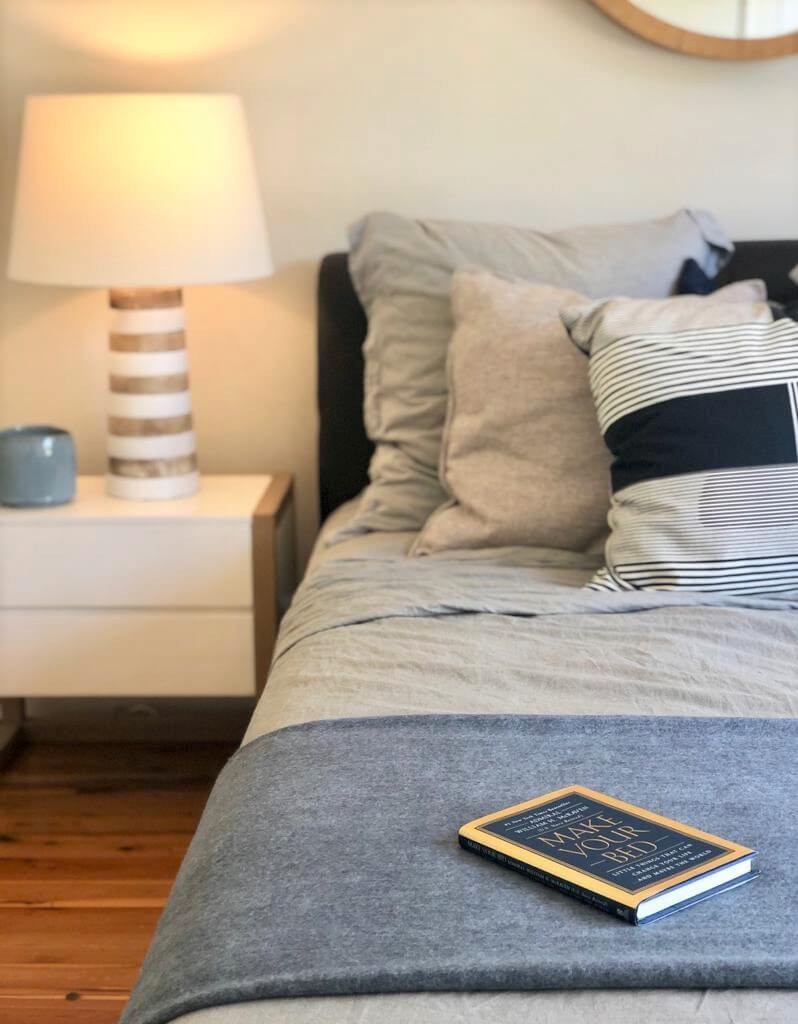 "Linen can make or break a room! It's always a great way to alter the way a space feels on a budget." For a minimal and clean look, a light grey or beige evokes a sense of calm and creates a clean space. However, if you want to be bolder with colour rusts and earthy tones are very in this season and may give your room a sense of joy and sophistication. It's a matter of personal preference, choose wisely and consider a great set of linen as an investment that will last you a long time. Pair your linen with a wool throw to add texture and a cosy feel to complete your minimalist oasis.
Understand the space to create a flow
Please get in touch. We would love to hear from you.
Have queries? Check out our FAQ