Entertain in Style
With the Easter long weekend approaching, many of us are planning gatherings with friends and family. The perfect table setting is fun, vibrant and effortlessly chic. It frames your photos, makes your guests feel special and helps set the overall tone of the event. Allow your personality and creativity to shine through. The idea of creating the perfect table setting can be daunting. EVOLVE stylists are here to help, we have put together five steps to ensure a cohesive and unique table, guaranteed to be a showstopping success.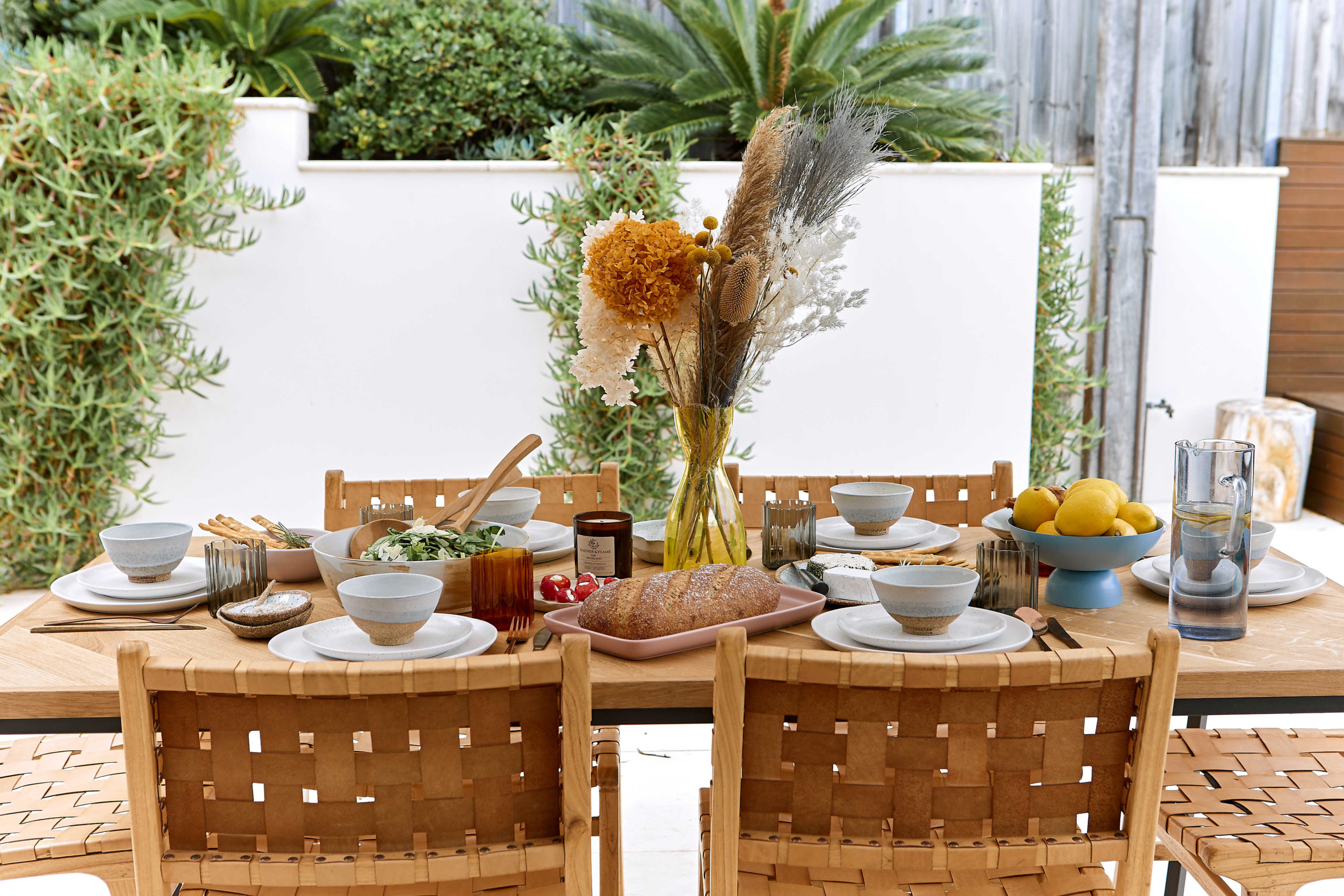 Often overlooked or considered as afterthought is the actual dining table itself. No need to invest in table linen when the table is a work of art. A quality timber table is always a worthwhile investment and never goes out of style. A well-crafted table is the ultimate backdrop to provide a good-looking table setting for every occasion. Our favourite go to dining tables are Australian made and handcrafted by artisan Olly from Hardwood Tables Co using Australian recycled and new timbers. Their parquetry tabletops are a stunning feature which elevates any interior and adds a touch of boutique luxury to every dining experience. He also offers a custom range of desks and coffee tables.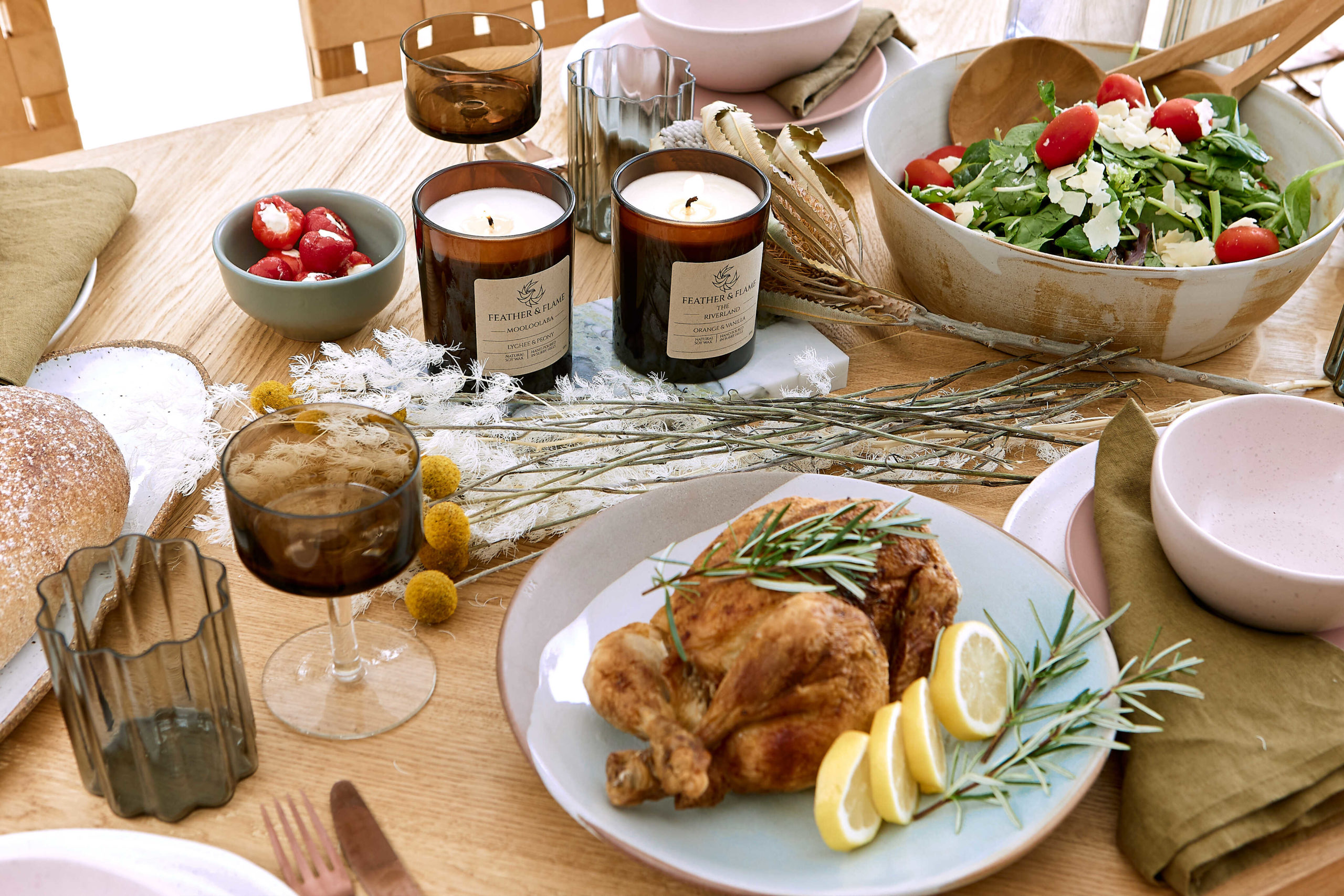 Deciding on a theme for your table setting is the first step to creating your vision. Is your style Rustic Australian or more French provincial? Once you have chosen a theme, a colour palette is the next step. For a romantic look think soft hues of purple and pastel. For a more Hamptons or Coastal feel, think white crisp linen and ocean blues. It is easiest to start with a neutral monochromatic base, in beige or white. Then build layers in your chosen colours through linens, plates, floral arrangements, and glasses. We opted for an Easter themed spring pastel palette of baby blue and pink with smaller pops of olive and yellow to balance the brighter shades. Always consider the food you are serving when creating your theme. Scent can also be a powerful tool in helping you create a theme, we chose Feather and Flame Mooloolaba scent of Lychee and Peony to complete our warm spring atmosphere.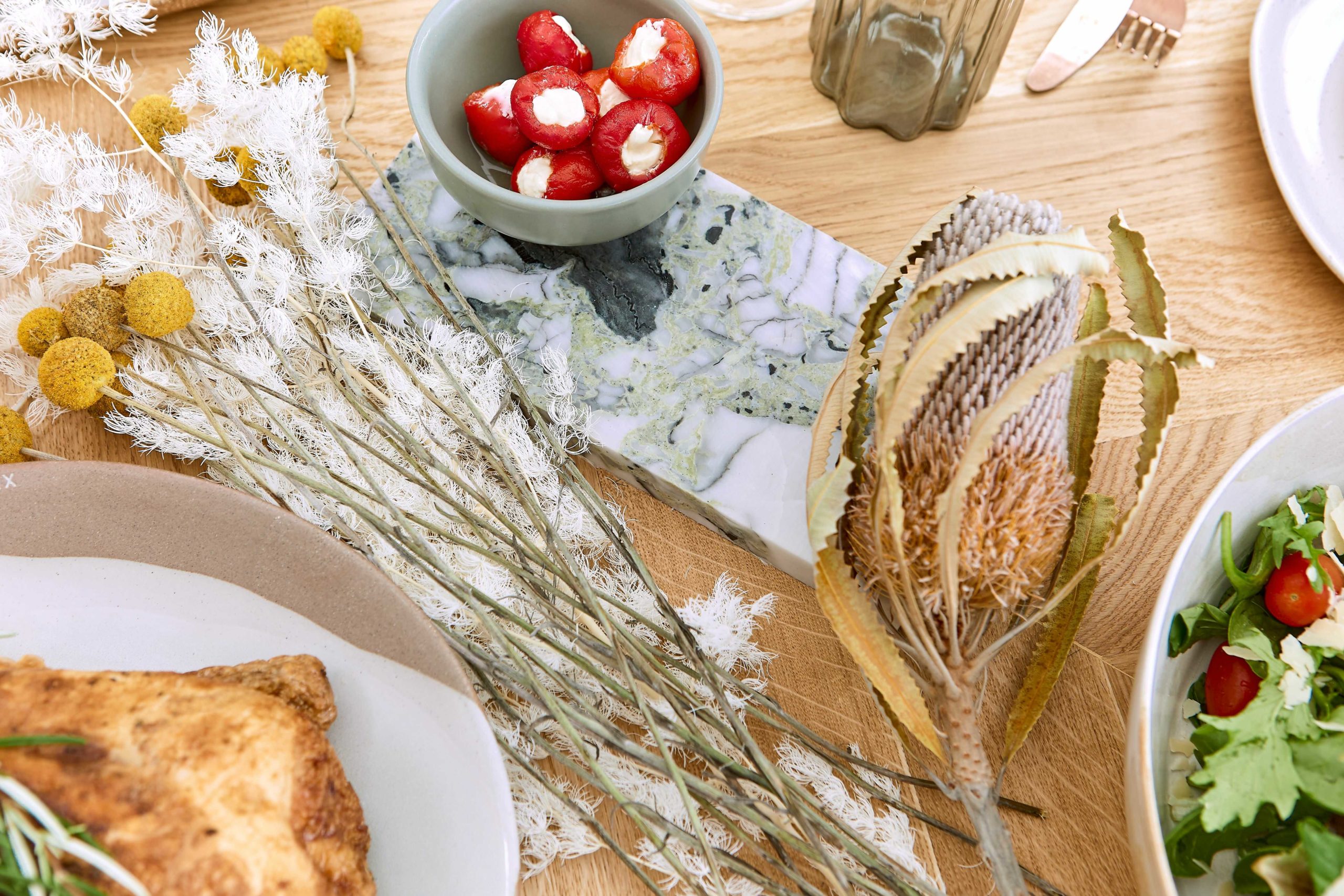 Layered Texture and Height are key elements in creating an interesting and cohesive table setting. Play with contrasting texture such as the beautiful timber parquetry of the Hardwood Table Co tabletop layered with green marble from Oh Marmo. A centre piece is easy way to add height and draw the eye. It is best to build the table setting around your centre piece then work your way outwards. A classic centre piece is a floral arrangement, we opted for dried flowers for a more rustic look.
Our stylist added a second layered feature piece with our Oh Marmo marble slab and Feather and Flame candles. The step-down layering of the different heights of the vase, candles and bowls worked as an extension of the centre piece and created a unified flow across the table. Use repeat elements to fill the voids in the table such as dried flowers, smaller bowls, or glasses in keeping with colours found in your floral centre piece.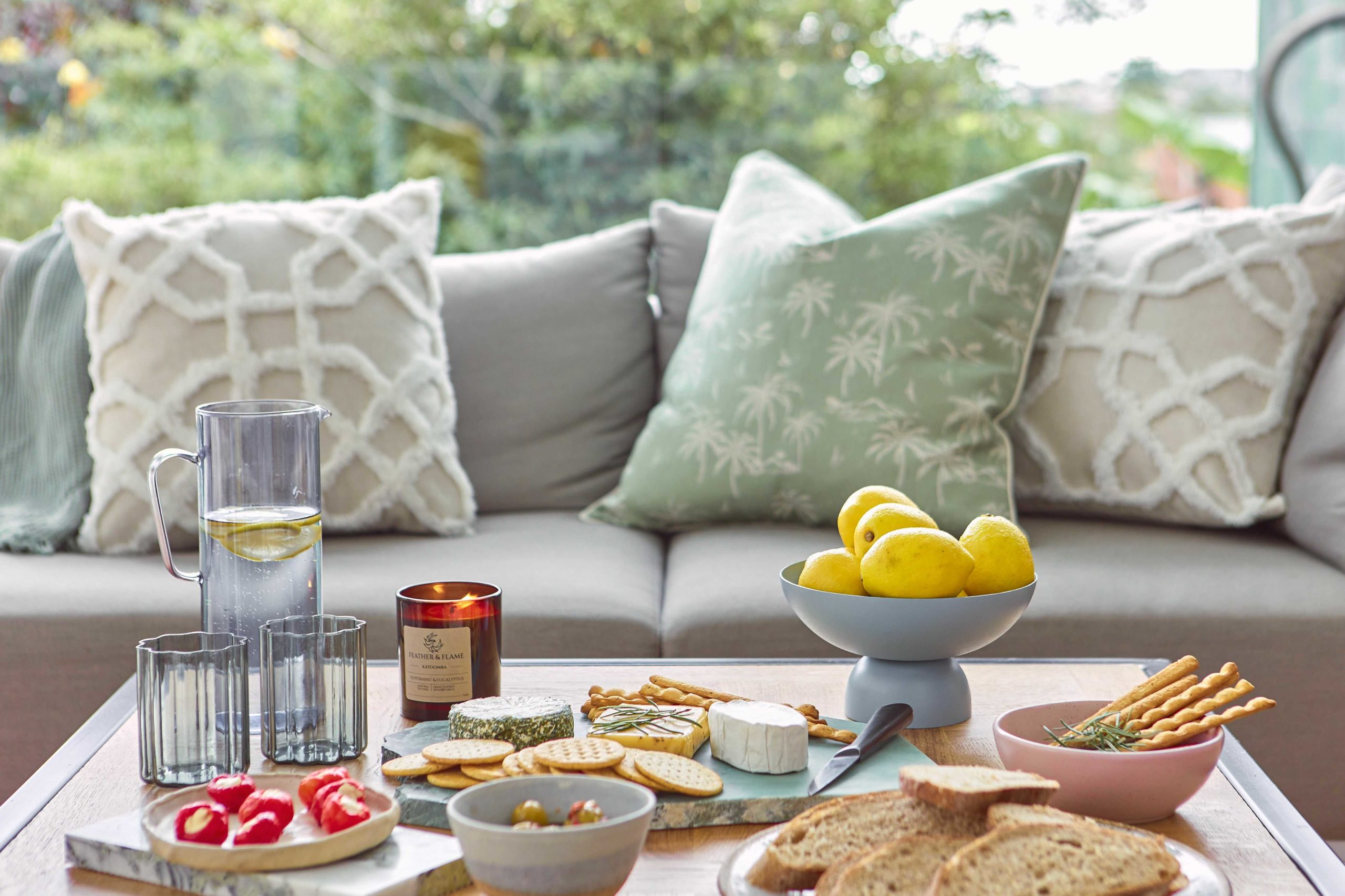 Playing with pattern and print is a great way to create contrast, add colour and warmth to your table setting. Escape to Paradise has a fabulous range of bold and muted placemats, table runners and cushions that are perfect for entertaining. EVOLVE chose The Postcards Cushion in Sage with a palm tree pattern to pair with a green marble serving platter and The Boho Texture Cushion to create an inviting and fun poolside entertaining space. When playing with patterns the key is balance. It is simpler to use a neutral base to allow the pattern to stand out and not be over shadowed. If you prefer a coloured base, select a colour from within the cushion pattern, so it blends. If you do mix two prints together consider scale, make sure both patterns are the same proportion otherwise the result can be chaotic.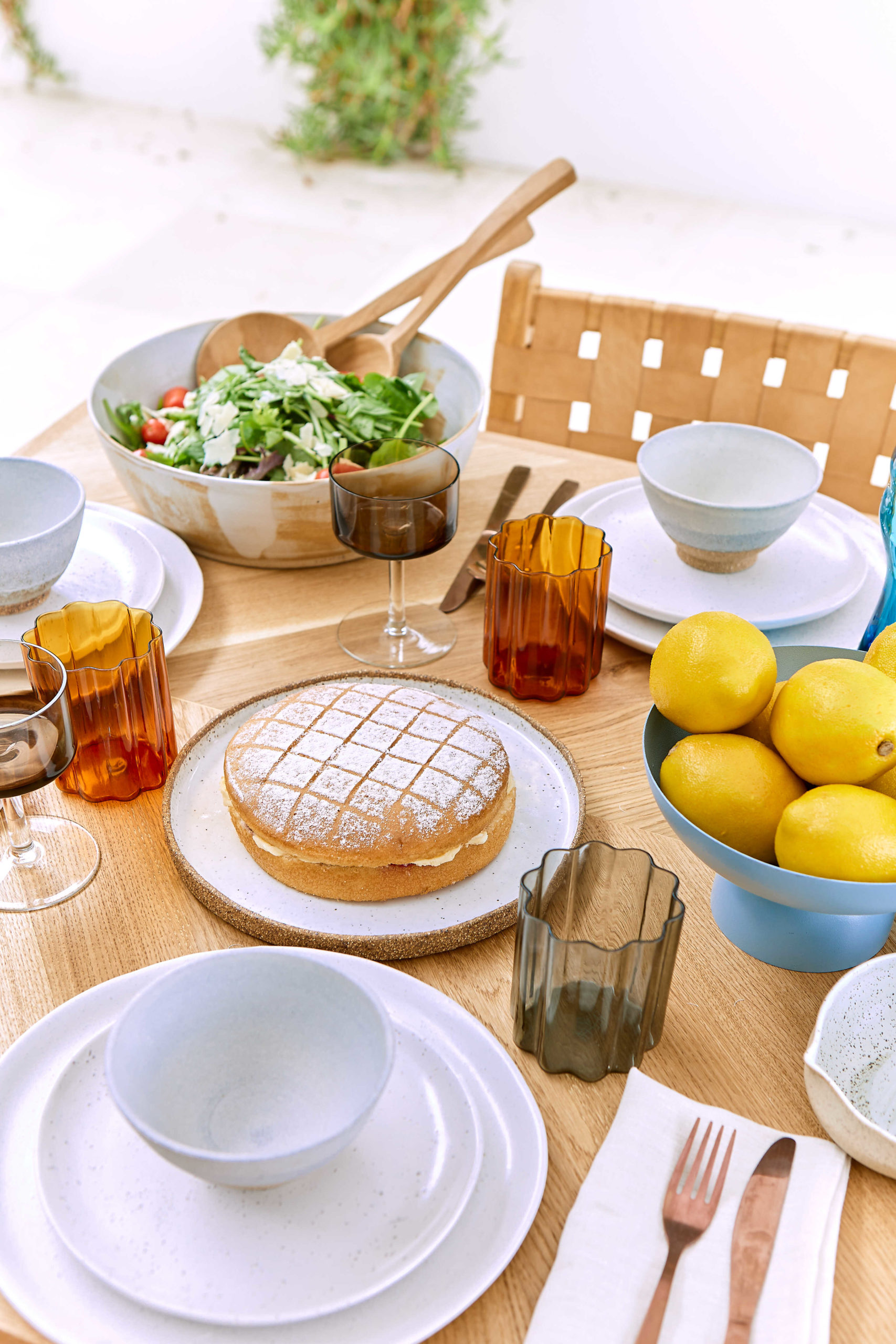 To create a truly original look, EVOLVE stylists blend old and new accessories when styling. Think vintage crockery and glassware with clean and neutral modern linen placemats and cutlery. This is a fabulous way to incorporate family treasures such as your nanna's antique crystal bowl or funky retro coloured vase. Pieces you may not often use but hold a special place in your heart. Make it unique, opportunity shops are always a fabulous place to source vintage glassware.
For our modern crockery Ratatak plates are a staple. Handmade by Australian ceramicist Kelly Pearce, these rustic, artisan plates are always stylish. They offer a fabulous range of neutral toned serving platters, salad bowls and everyday crockery.
EVOLVE hopes our styling tips having given you renewed creativity to feast in style this Easter weekend.
Interested in our Interior Design Services? We offer our services to homes throughout Sydney. If you're ready to learn more, please don't hesitate to contact us.
Understand the space to create a flow
Please get in touch. We would love to hear from you.
Have queries? Check out our FAQ