Create Your Dream Bathroom Oasis
Bathroom styling can often be overlooked or considered as an after thought. During COVID lockdown, perceptions have changed, many of us now view our bathrooms as our Oasis, an escape from the day to day and our private home spa. Evolve has four tips guaranteed to refresh your bathroom without renovating and create a cohesive tranquil space.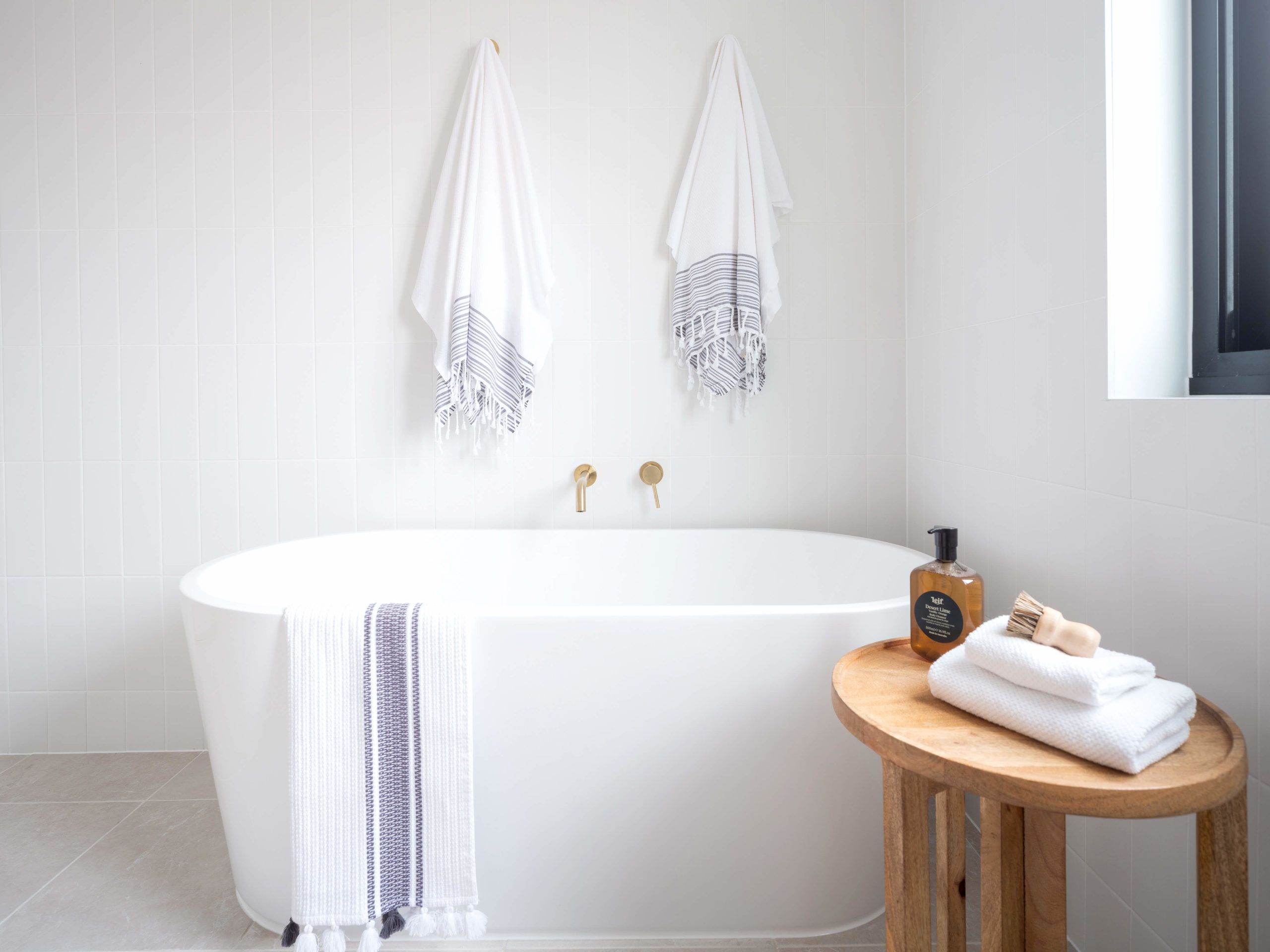 The first step to creating your dream bathroom is picking a theme. Bathrooms styling often looks best when kept clean, minimal and functional. A theme will help insure you stick to your vision and create a cohesive look. Bathrooms can quickly become bitsy and busy. Your bathroom should feel in keeping with the rest of your home. Is the envisaged style to be Coastal Mediterranean, Luxury or Urban? For Coastal Mediterranean think white and blue, Turkish towels, timber, coral accents and natural stones finishes. For Luxury glam choose gold or brass finishes, heavy fluffy textured towels, polished marble and rippled or handblown glass accents. For Urban options, black matt metals, polished concrete, coloured glass and colourful patterned towels.
Creating a mood board of bathrooms you like, products you are drawn to and images that inspire, will help you settle on a theme and can allow you to visualise your final look and ensure everything blends perfectly.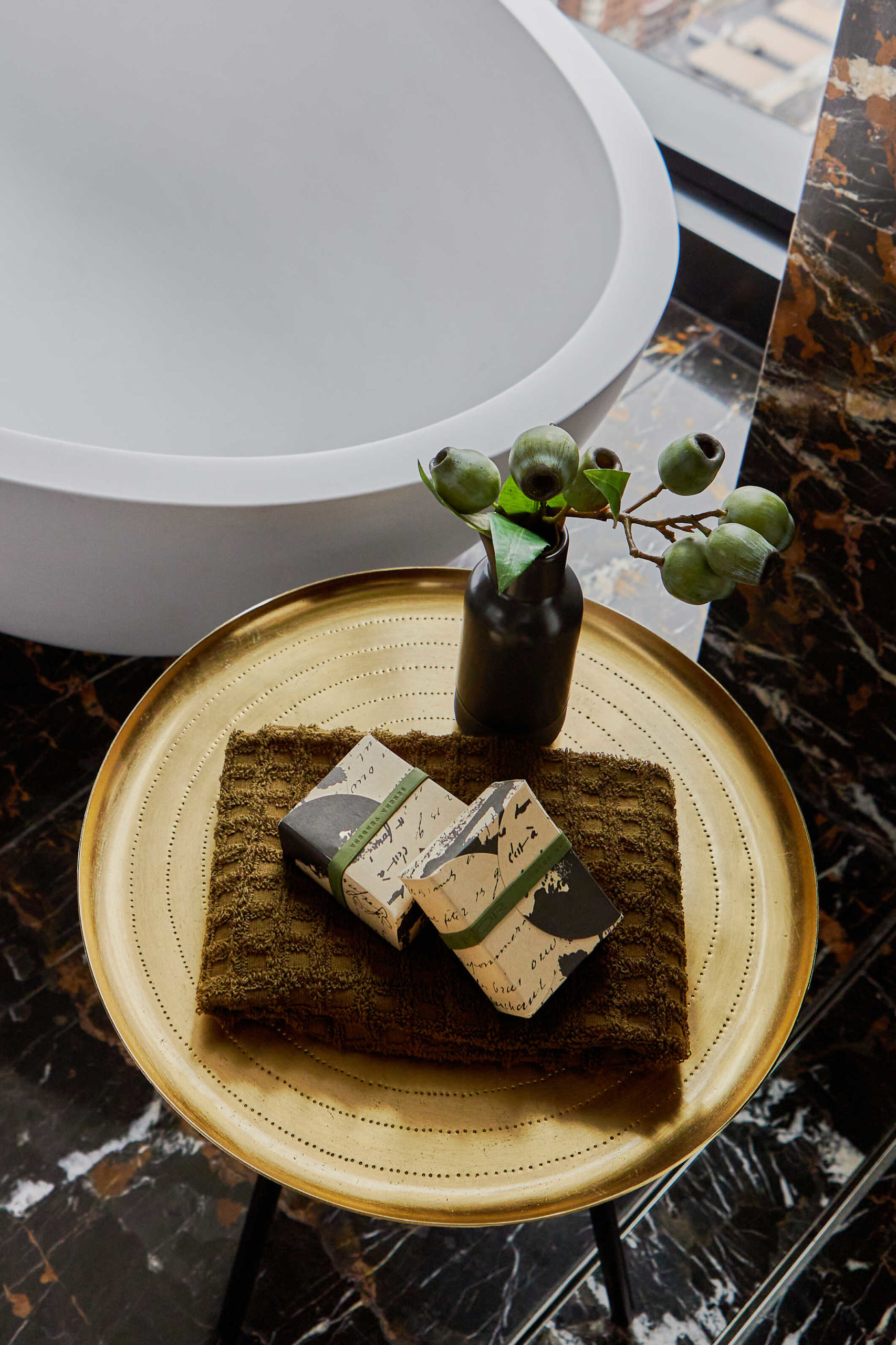 Add a big splash of colour or pattern to your bathroom with bold towels and bathmats. Think of your bath towels as the artwork of the bathroom. Towels are a great way to add texture as they are a focal point that can be used to highlight the colours found in tiles and other finishes. Marble tiles often have veins of colour running through them, in the penthouse apartment featured above, EVOLVE styled with olive green towels to bring out the green undertones in the marble. A patterned towel can add character and warmth to your bathroom, always remember to keep the pattern towel as the feature and not to overwhelm it with many bold accessories. EVOLVE's favourite patterned towels can be found at Marimekko and Missoni.
For an added pop of colour, finish your bathroom look with greenery such as a hanging plant or statement bouquet. You can choose a few flowers which highlight your towel colours or bathroom accents, to create a cohesive flow. Indoor greenery evokes a sense of calm and nature and can be the perfect finishing touch to your retreat.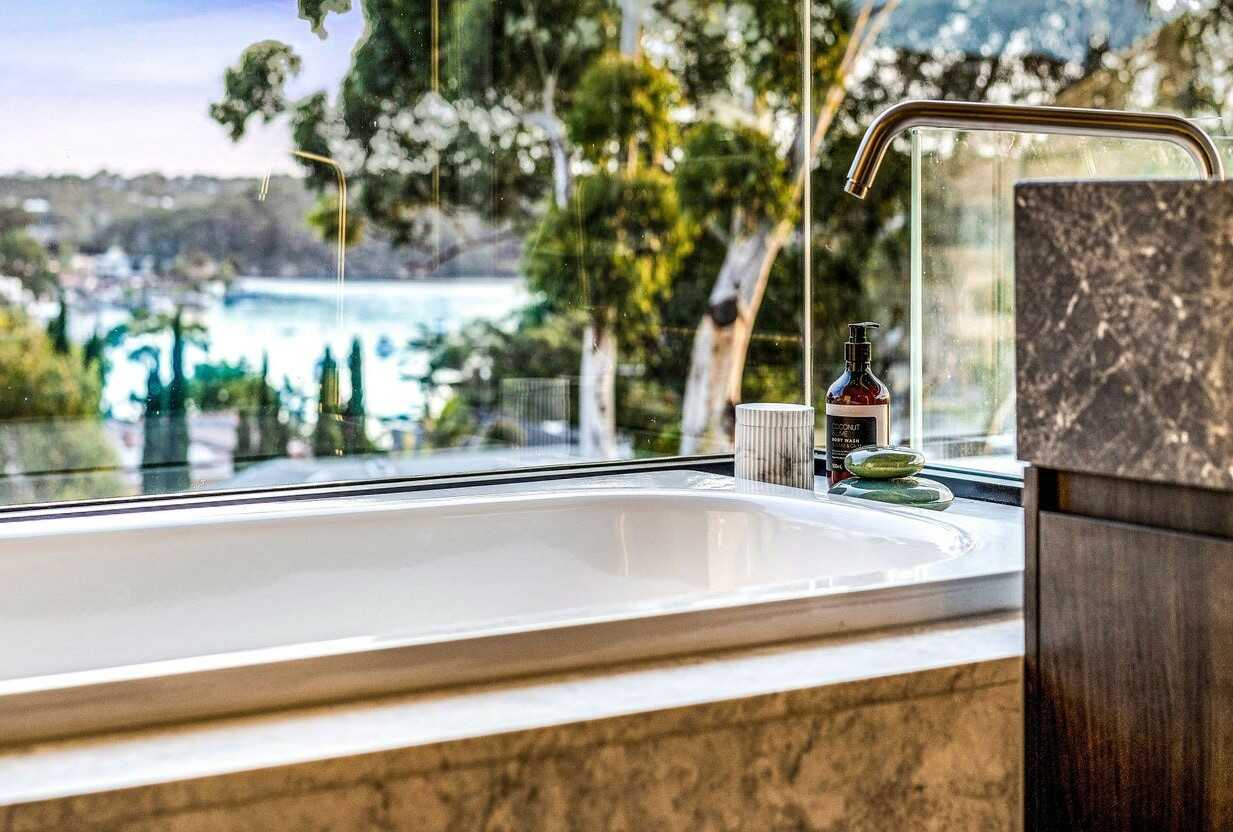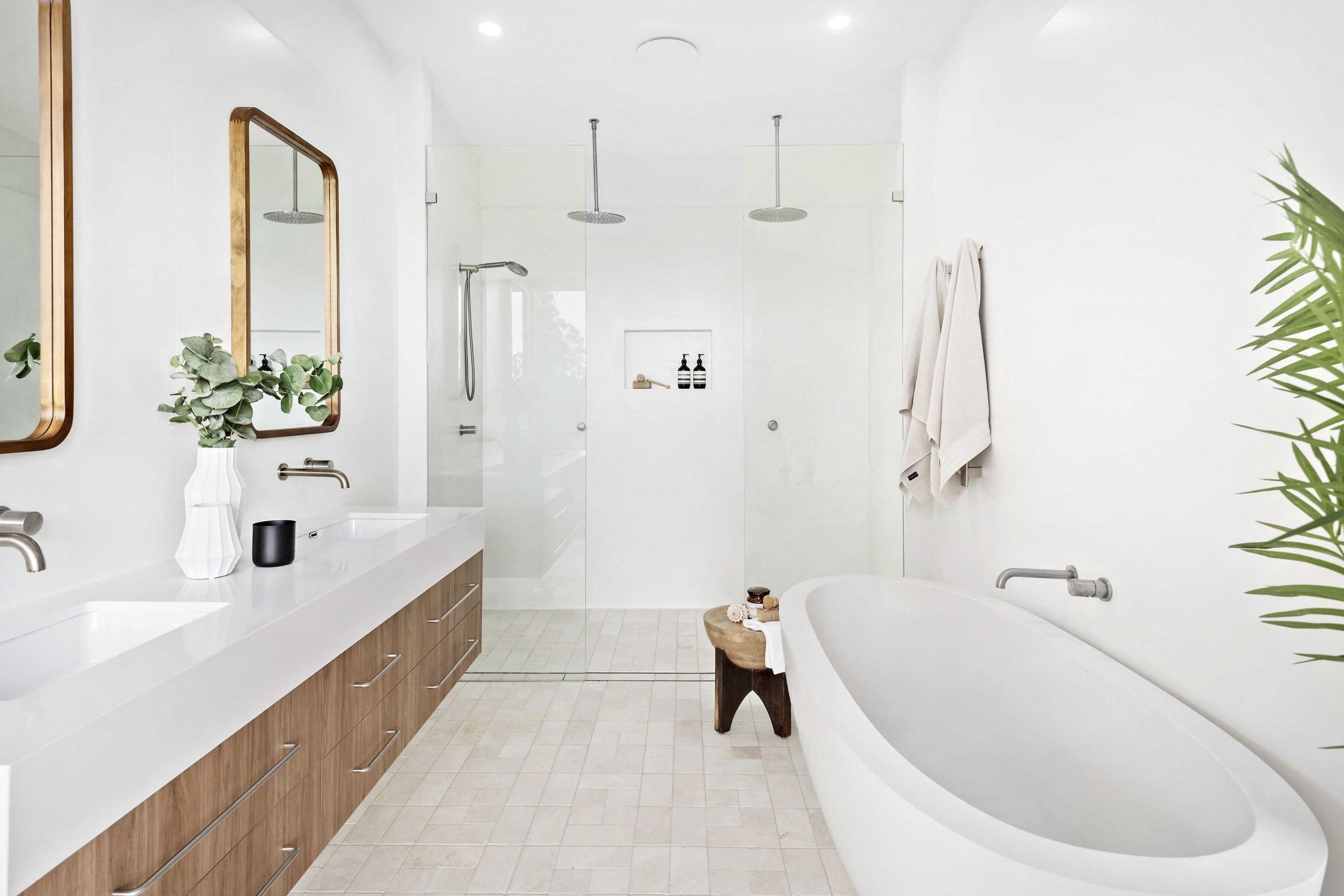 Bathroom vignettes are a grouping of layered accessories or towels displayed in a decorative way. They are a great way to declutter by grouping and to inject your personality into your bathroom. Play with height, shape and texture. Mix a smooth marble tray with a cut glass toothbrush holder or bronze candle, a tall vase with a short vase. You can work with anything, a bowl, tray, jar to hold your cotton buds or toothbrush holder. Try to avoid too many matching items, instead create cohesion through texture, shape and colour. Vignettes can be both practical and atheistically pleasing.
Odd number work best in vignettes, to keep the space clutter free 3 or 5 accessories in a grouping are best. I would recommend two vignettes maximum as you do not want to crowd the space, one on the vanity and another in the shower or bath. You can anchor your free standing bathtub with a timber stool and dress it with a small vignette of towels, candles, body products or even bath brushes.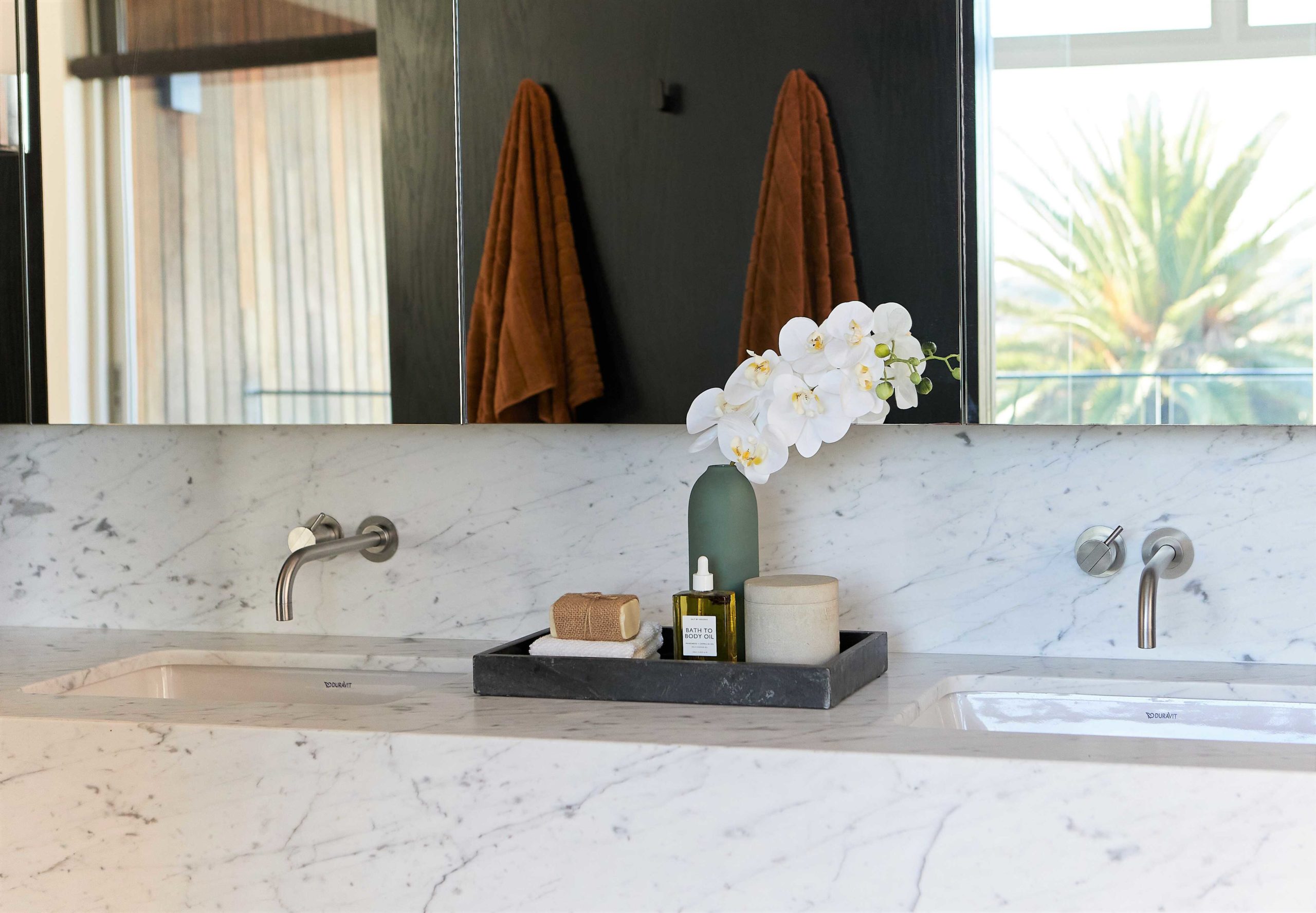 Use a tray or platter to frame your vignettes. It a great way to create a visual break between your surfaces and accessories and draw the eye, play with colour blocking or mixing and matching textures. It creates order in the space and prevents your bathroom looking too bitsy as it unites all your accessories. Trays come in many different styles with framed or unframed sides for a more relaxed look. Trays made from polished concrete, timber, brass, glass and coloured marble are all great choices to elevate the space. Our favourite trays are raw pieces of coloured marble from Oh Marmo or hand-crafted clay platters from Ratatak. Mirrored trays can be used to draw more light into the space and glass trays can lighten a heavy space. Vintage trays make great unique accessories and are a budget friendly alterative. Never crowd your tray, always make sure it feels well balanced and does not look out of place in your chosen location. Remember minimalism is your friend.
Evolve hopes our easy styling tips have helped you to create your dream bathroom, for more tips and advice subscribe to our mailing list.
Interested in our Interior Design Services? We offer our services to homes throughout Sydney. If you're ready to learn more, please don't hesitate to contact us.
Understand the space to create a flow
Please get in touch. We would love to hear from you.
Have queries? Check out our FAQ