6 Of Our Best Kitchen Design And Styling Tips
It is often said that the kitchen is the life blood of the home. We spend a lot of time in the kitchen, particularly if we entertain. Kitchens shouldn't just be functional, they should be enjoyable and can often set a mood for the rest of the interior. When designing your kitchen or renovating your existing, design is a key priority. A kitchen should be an open inviting space with plenty of storage and natural light, however that doesn't mean it can't be beautiful too.
Evolve has six styling tips that will help you achieve the quality of a designer kitchen with a warmth and personality that is uniquely yours.
Choose Your Kitchen Theme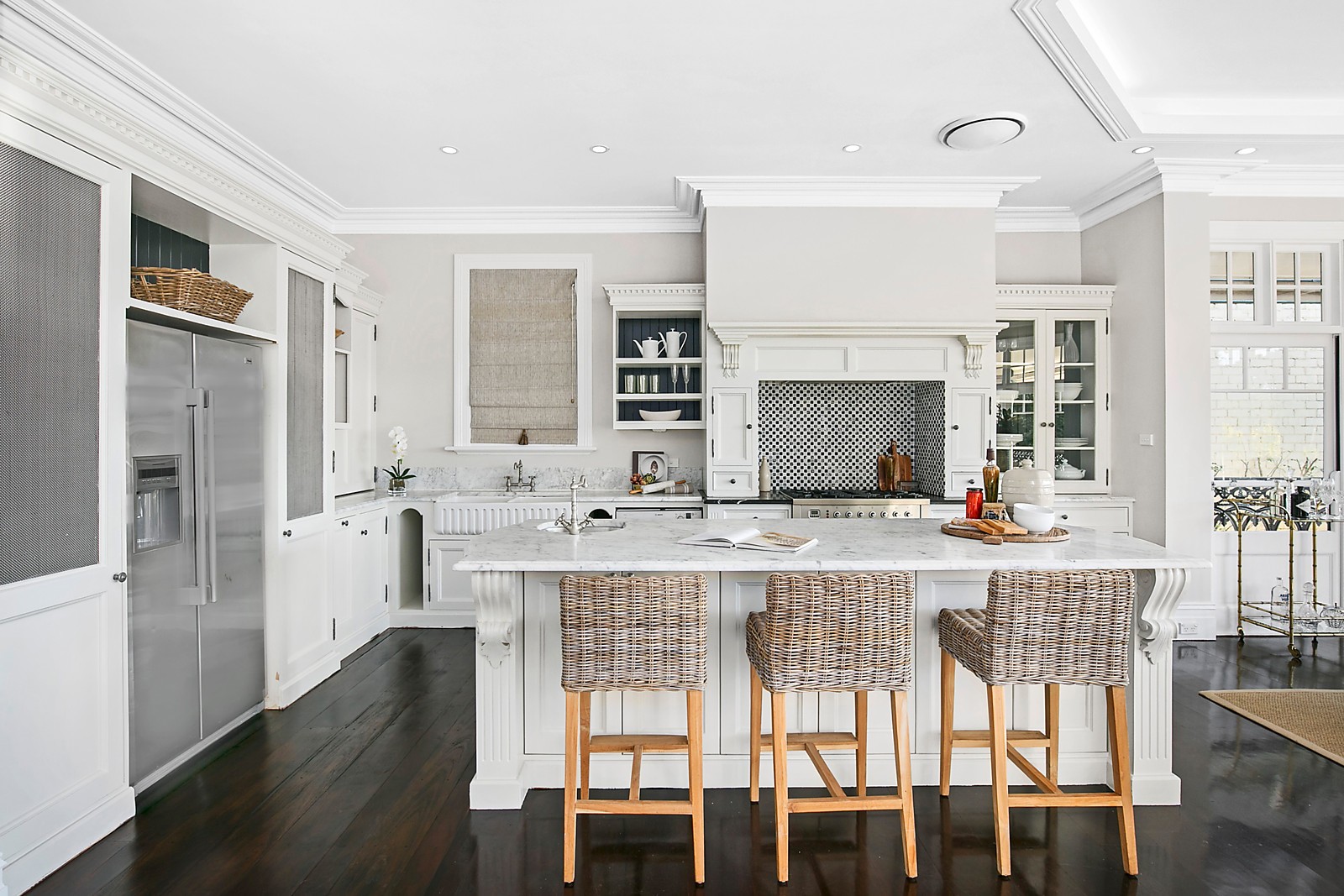 Choosing the style and layout is the first crucial step to achieving the kitchen of your dreams. Consider the rest of your interior when choosing a style. You want to kitchen to flow seamlessly onto the rest of the house. The most popular styles for kitchens are Country, French, Hamptons, Coastal, Industrial, Modern and Contemporary.
Country and French kitchens are more traditional, think rustic and down to earth with lots of honey timber and white cabinetry. Hamptons and Coastal use palettes inspired by nature lots of raw timber, white stone benchtops and natural tones inspired by the sea, they are typically light, bright and airy. Contemporary and modern kitchens are all about the latest design, using clean lines, polished concrete and minimalism. Whilst industrial kitchens have many similarities to contemporary kitchens however, they usually encompass the use of metals, recycled timber and the original raw space around them such as incorporating exposed fittings and natural brick as a homage to industrial boho chic New York.
Consider A Floating Island Bench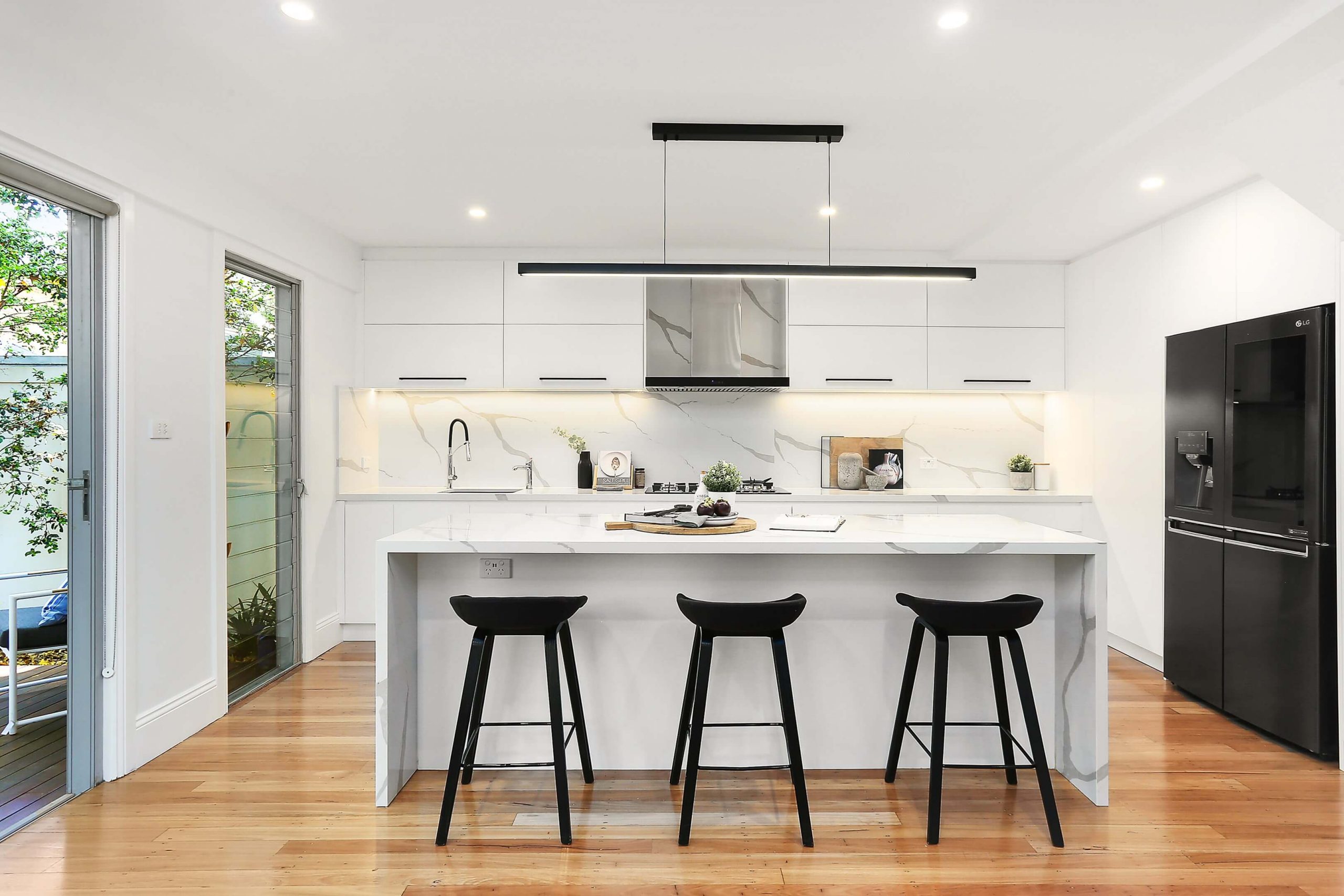 When choosing a layout consider the functionality of the space by creating sufficient walkways and storage to keep your kitchen spacious and clutter free. An island bench not only looks luxurious, it is also a practical workspace that can conceal shelving and give you extra storage space. There are many options for benchtop finishes from raw timber to granite, polished concrete or marble. Consider the addition of counter stools to turn your island bench into the ideal entertaining space where guests can sit and nibble over a drink, whilst you cook or use the island bench as the perfect family breakfast bar. Make sure you choose the appropriate height and style of stool to match your chosen kitchen theme.
 Choose Your Colour Palette Early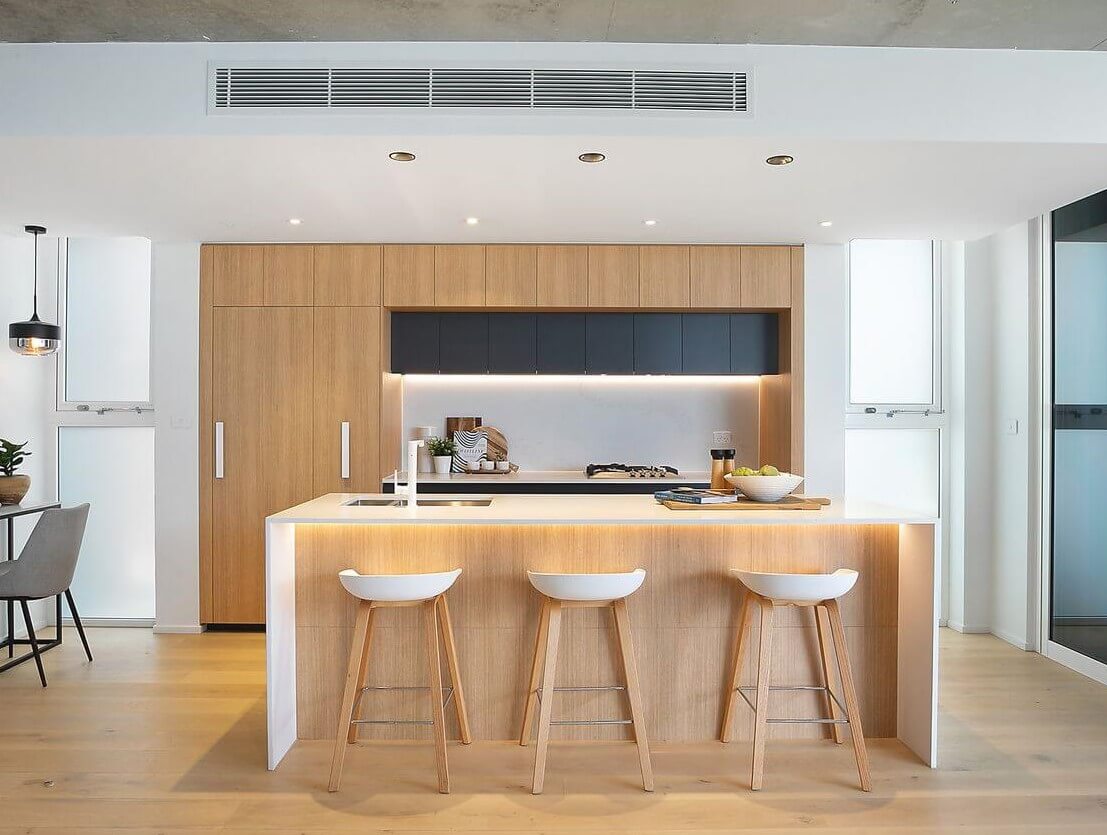 Choosing your colour palette early is key to creating on overall cohesive kitchen. Light colours work better in small spaces and help keen the space fresh. If you do decide to use a dark marble, dark cupboards or black tile splash back, make sure you balance it out with lighter shades of the same colour or different neutral colours such as white or beige to give it depth and make sure its not too heavy. Start by making a colour mood board for your kitchen, then progress to large painted wall swatches so you can get a real understanding how the colour works in the space.
Consider Coloured Cabinets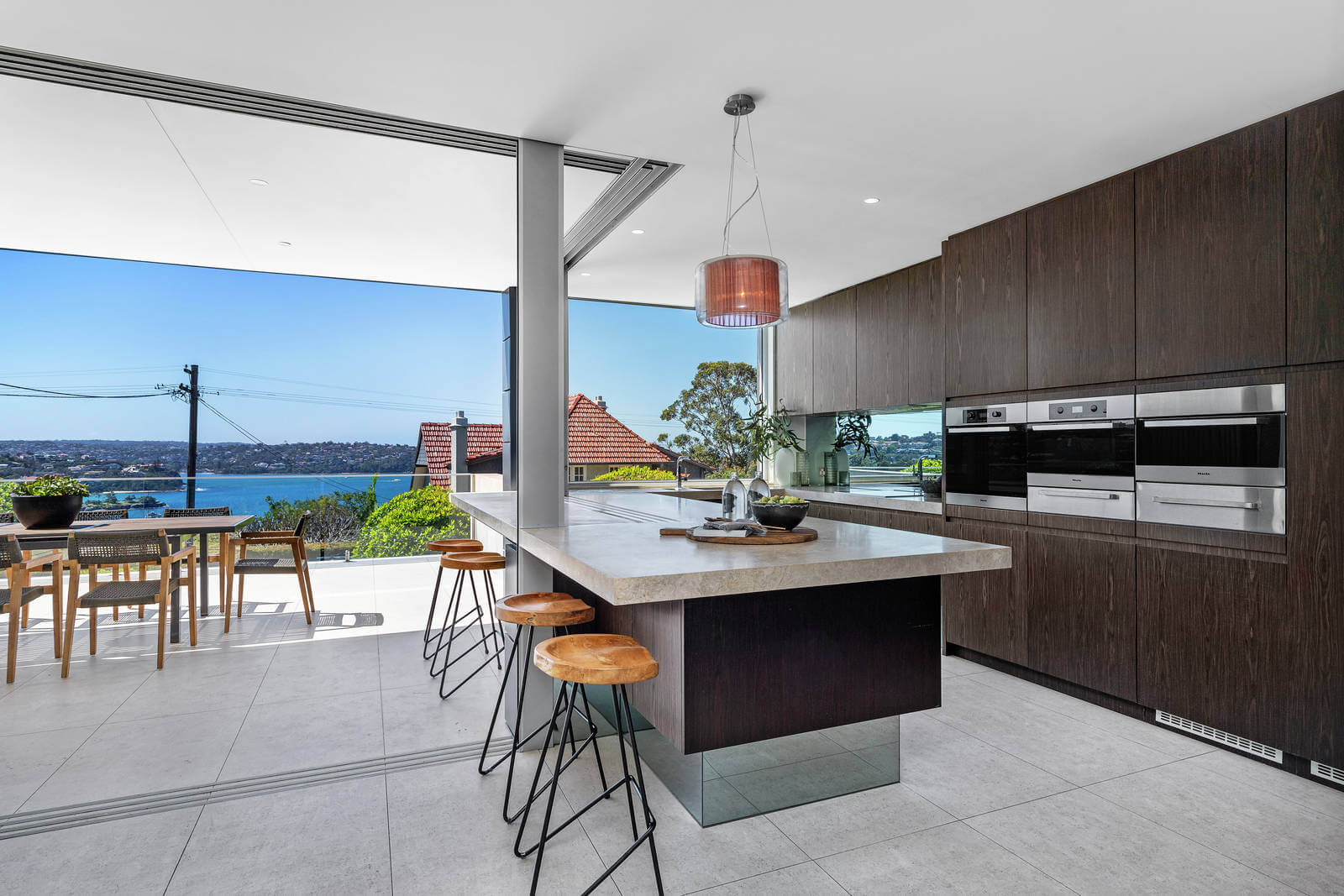 Bold coloured cabinets such a greens, navy blues and even greys are great alternatives to the standard white. Not only is it forgiving against stains, it also adds personality and richness to your kitchen. Planning is crucial if you want to go with a bold cabinet, as you don't want to end up with a mismatch of appliances, furnishings and paint finishes that clash. Again a mood board, a collection of aspiration design images, paint swatches, and textiles, is the first step to a bold kitchen with a clear vision. Have fun with your cabinet choices, play with texture such a concrete, wood, copper or even a laminate finish. Materials such as glass and marble accessories can also help soften dark cabinetry.
Choose One Key Design Feature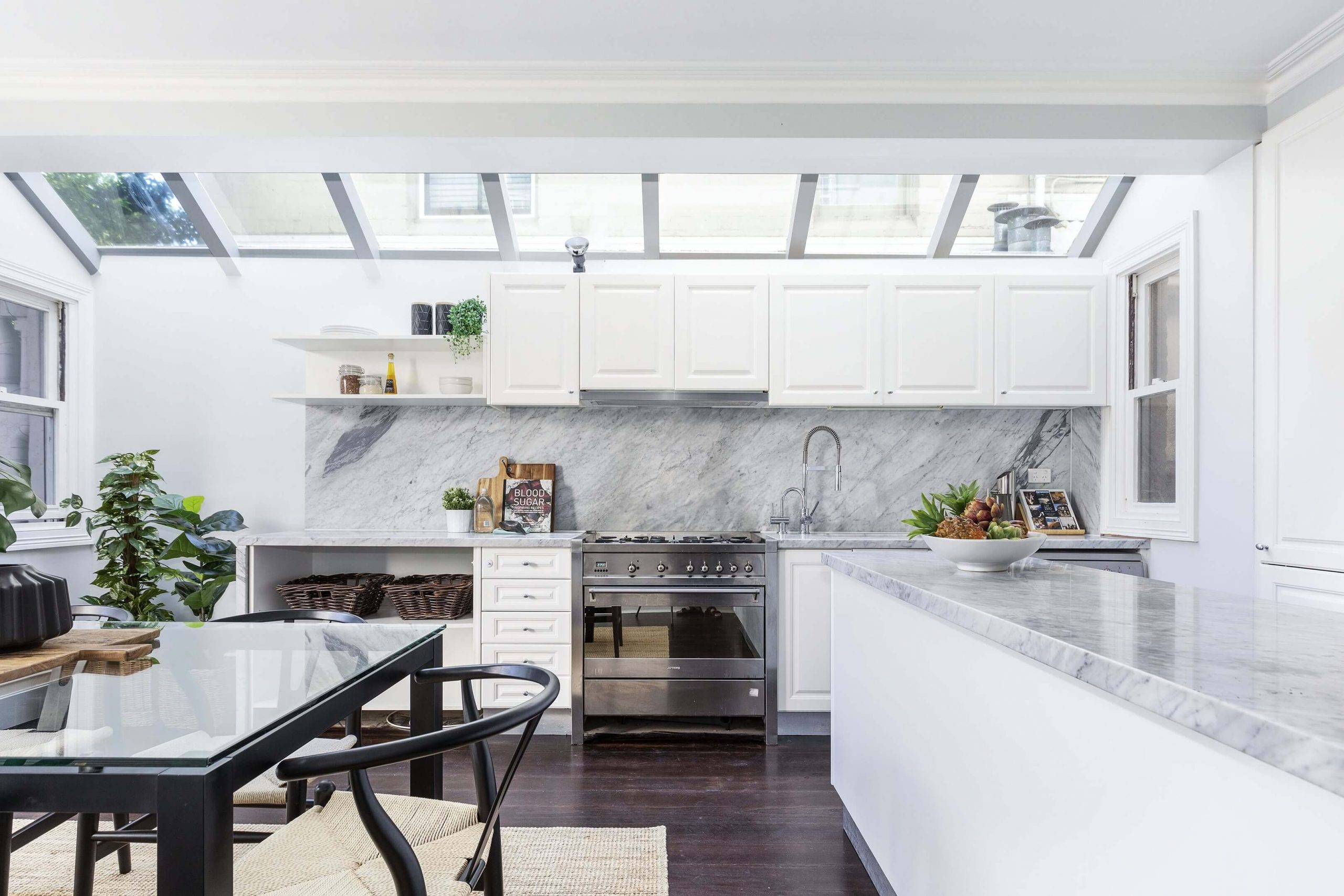 Choosing one key focus point early on is important, otherwise your kitchen will look busy and cluttered. Your dazzling design feature could be anything from a splash back to cabinetry, flooring, marble benchtops or even finishes such as tapware and cupboard handles. Think about the way your chosen textures will work together, having a neutral base such as white walls and light flooring will make this process easier. Again, a mood board is your best friend and will allow you to create a harmonious space which draws the eye in all the right directions.
Complete The Look With Kitchen Vignettes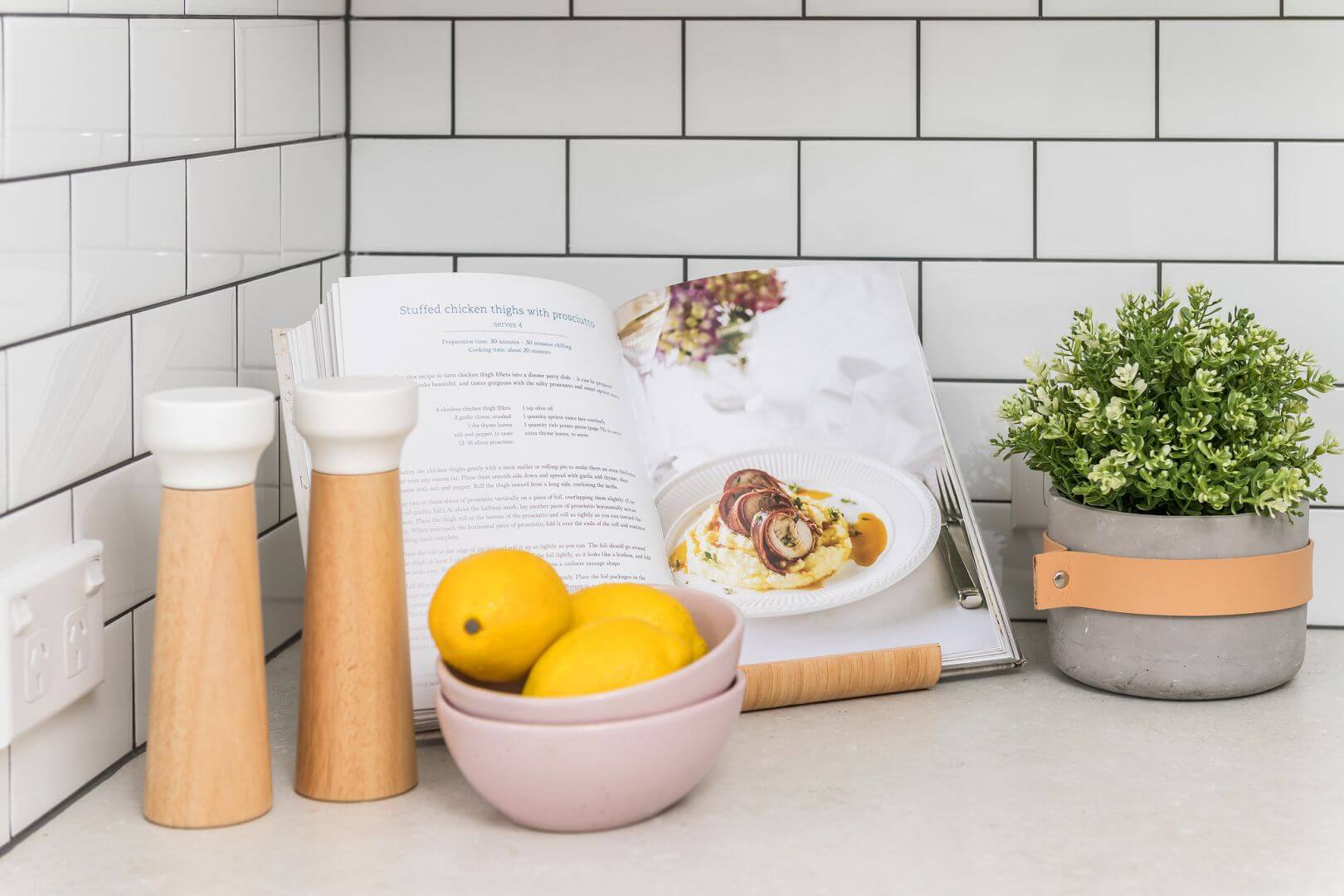 Kitchen vignettes are a grouping of accessories or appliances displayed together in a decorative way. They are a great way to declutter and inject your personality into your kitchen. They can be made up of homewares, your favorite cookbooks or even natural elements such as fresh flowers or fruit. For added character consider using vintage homewares found at opportunity shops, such as old timber chopping boards, cooking utensils or a retro mixer.
Understand the space to create a flow
Please get in touch. We would love to hear from you.
Have queries? Check out our FAQ