2021 Interior Style Trends To Refresh Your Home
Keen to put Twenty Twenty behind you by revamping your home? After a year of spending more time in our home than ever, a simple change of colour or a few accessories may be all you need to ring in the new year with a fresh energy and a change in the feng shui of your home. I sat down with our head stylist and owner of Evolve Styling Tanya to ask her top five favorite trends for Twenty Twenty-one.
Colour palette inspired by nature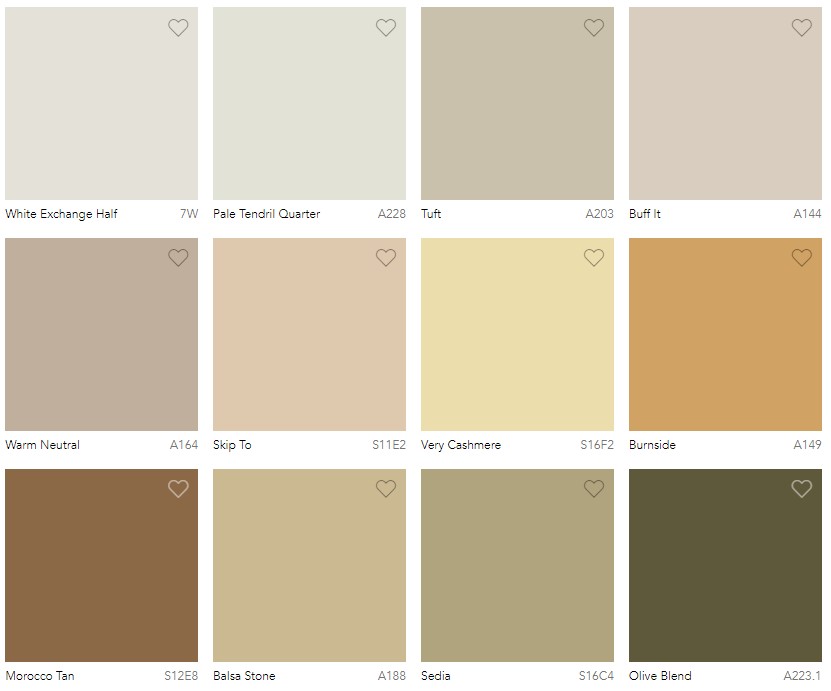 Image by: Dulux 2021 Colour Guide -Nourish
Biophilic hues of mossy and sage greens, turmeric and citrus are making their way into homes in Twenty Twenty-one. The pandemic has confined us to our homes and away from nature, renewing our desire to be surrounded by colour reflective of natural beauty. Earthy tones, and soothing colours encourage comments of calm and stillness in the home, creating a sanctuary of peace away from the chaos of everyday life. This welcoming environment is all about exploring organic beauty and minimalistic finishes.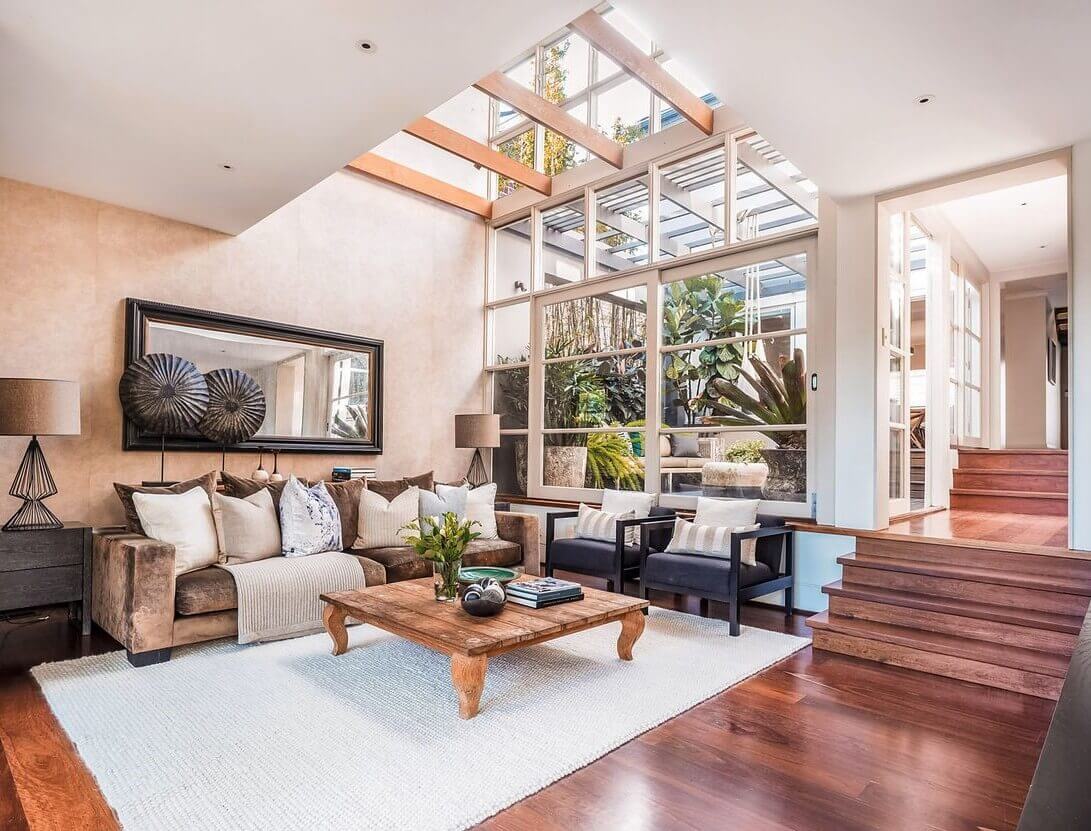 In keeping with the trend towards mimicking nature in your interiors, Twenty Twenty-one is all about natural finishes. Think raw timber or natural stone, we are move away from mass produced or manmade finishes such a terrazzo. Twenty Twenty-one's theme is as close to nature as possible. Natural finishes are even on the rise amongst accessories with people now opting to be a conscious consumer with a growing awareness of the environmental issues. People are gravitating towards natural materials that embrace flaws and are one of a kind. Textiles like organic cotton, recycled polyester, wool, and low impact linen are flooding the shelves this season.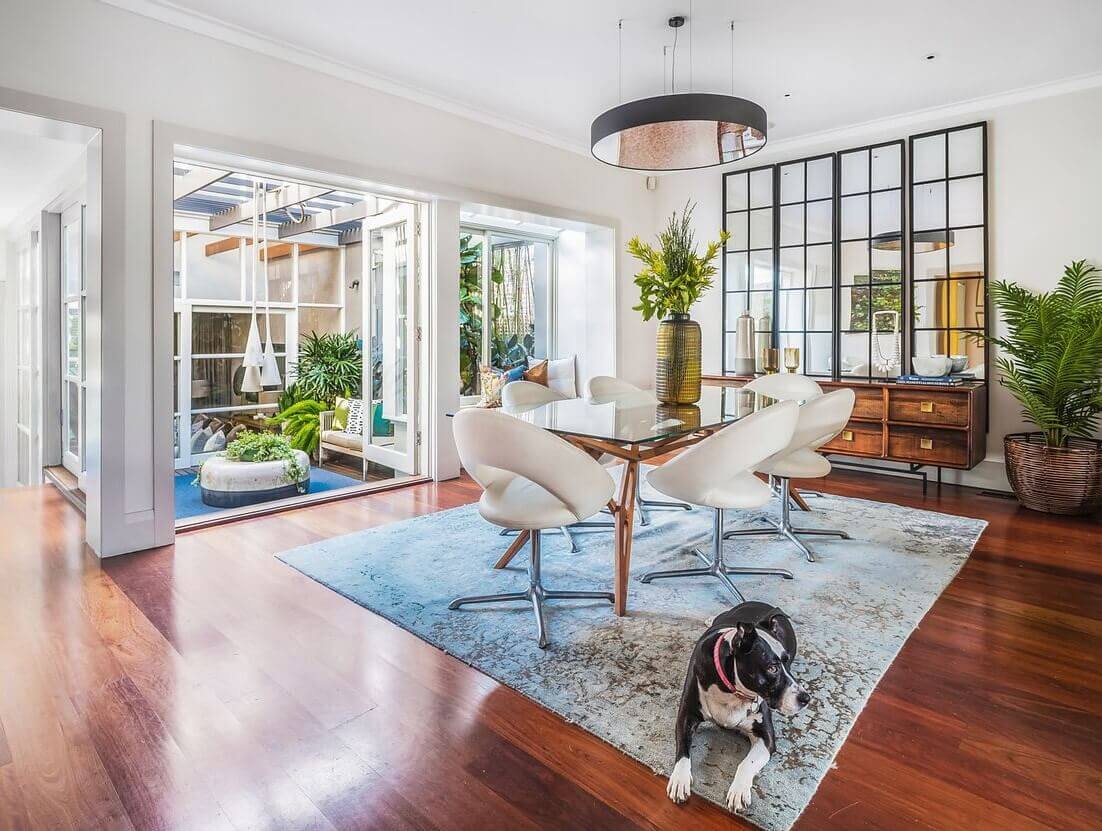 Industrial style is all the rage in Twenty Twenty-one, maybe its because it harks back to a simpler time or as it ties back to our need for conscious consumerism whilst adding individuality to our homes. We now want to know where our product come from and who made it. Therefore antique, repurposed and salvaged retro pieces are the must have design feature for Twenty Twenty-one. The key to achieving a good industrial look is mixing the old with the new to create balance. Don't use all retro pieces, just choose a few key accessories or furnishing such as the fabulous white chairs in the image above. Industrial style is great for mulit-purpose environments such as open plan living and dining spaces, as it adds depth and texture to big rooms. Key pieces can also help ground the space by drawing focus. Think a bold armchair or an industrial metal bookshelf.
Home Office as a focal point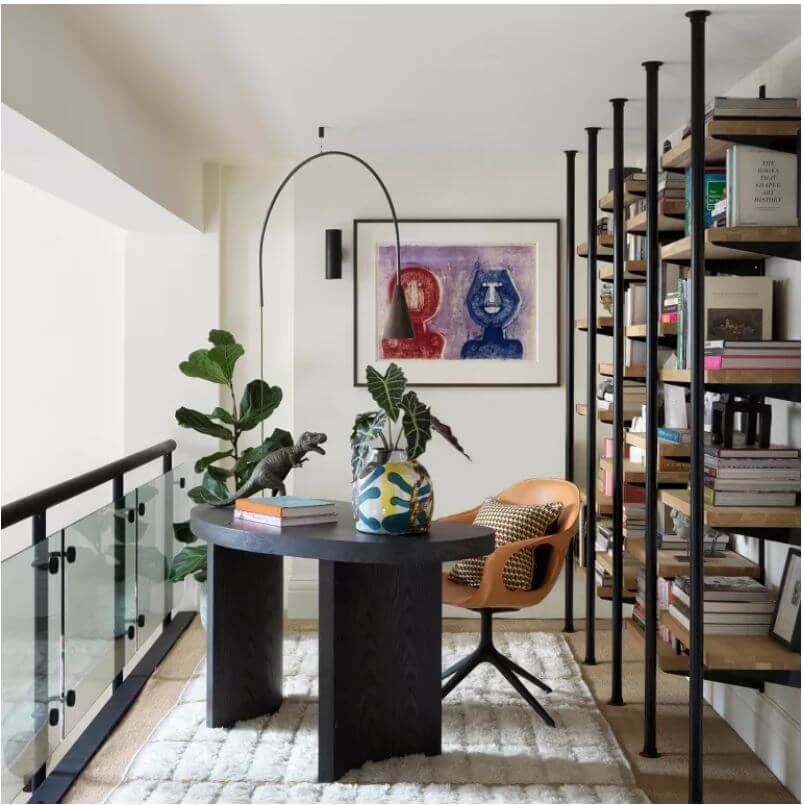 Design by Natalia Miyar from Home and Gardens
Chances are January last year you put no thought into your home office at all, it was all function not aesthetic. Given that working from home is now a part of daily life, why not make your office a sanctuary, somewhere you find aesthetically pleasing and a joy to work from. This is not a corporate environment, so your home office should not reflect that. Although a space with purpose, do not be afraid to embrace not just comfort but also style. For example, get playful with your office chair, experiment with velvet dinning chair or a leather armchair. Step away from traditional office chairs and desks. Play with shape, colour and texture in your space. Mix textiles such as a wool rug with linens and combine a timber desk to make a warm comfortable space. Wow your walls with fun prints like a gallery wall or a well styled bookcase, adding your character to room and creating the perfect backdrop for your zoom meetings.
Evolve hopes our Twenty Twenty-one style trends help inspire you to get creative with your home interior design.
Interested in our Interior Design Services? We offer our services to homes throughout Sydney. If you're ready to learn more, please don't hesitate to contact us.
Understand the space to create a flow
Please get in touch. We would love to hear from you.
Have queries? Check out our FAQ