A Piece of Paradise Inspiring Outdoor Spaces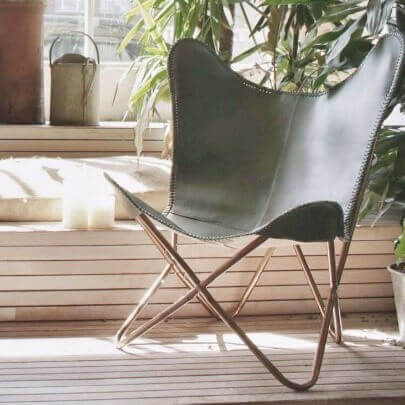 After reading this blog you will be able to create an outdoor living space that will inspire all who enter. You won't have to spend thousands on landscaping and you do not need a huge backyard. Whether your outdoor space is large or small, it is always possible to create the perfect outdoor oasis. Your outdoor deck, veranda or patio, should become an extension of your home and should be able to be used every day either for family fun or entertaining friends.
Begin by seeking out the best-selling feature of your outdoor space, and then work at really showing it off. This can be done by positioning your outdoor furniture to maximise the feature, or adding accessories or soft furnishings to highlight your feature, such as choosing a colour like fuchsia to bring out a beautiful bougainvillea.
ZONING
Create zones within the space, like a dining space featuring a beautiful concrete and timber dining table. Alternatively, or in addition, you could create a lounge area. If you have a very small timber deck or balcony it can instantly become a spot to relax or read a book, just by adding a relaxing chair – try a butterfly chair for effect.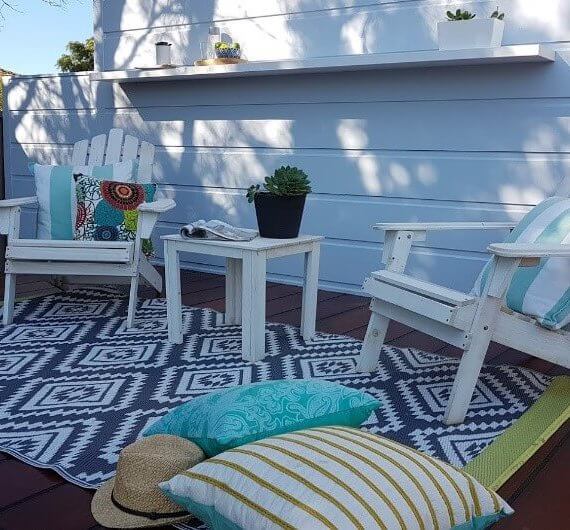 DECLUTTERING
De-clutter the area and try to maintain timber furniture so it always looks fresh.
When choosing furniture, take into consideration the size of the space. Don't use furniture that will impose on the space, for example when using a rug ensure it doesn't cover over two-thirds of the space. Try to choose unique products where possible, for example, brown wicker is readily available when looking for outdoor furniture, but try something with a fresh appeal, white is beautiful as it will pop against the emerald backdrop that Mother Nature may provide.
DETAILS
The little details are important when styling your outdoor area. Scatter cushions, outdoor rugs and succulents in crisp colourful pots add a fresh appeal and all bring texture and la
yering for warmth. Don't forget when looking to decorate with soft furnishings, they will be exposed to the elements so invest in a few cushions which are made with specific outdoor fabrics. These can be costlier but won't fade or be struck by mildew. Outdoor rugs need the same consideration. We use a vast variety of suppliers but check out Fab Habitat who make their rugs with recycled plastic, these are a great feature, are readily available, relatively inexpensive and can be hosed down for cleaning, as well as being sustainable and environmentally friendly. Win Win!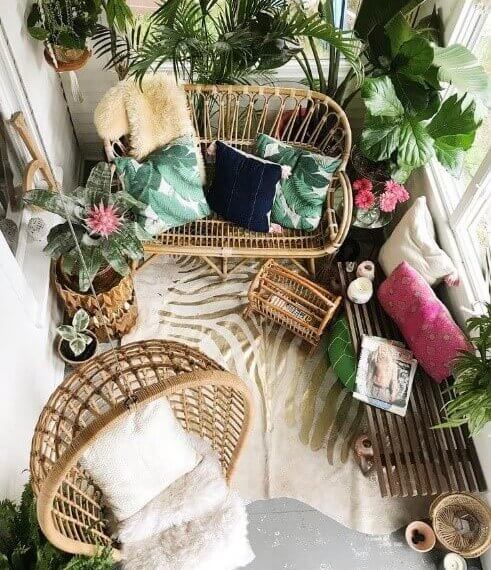 CHOOSE YOUR LOOK
Dreaming about Palm Springs? Take yourself there! Evolve Styling achieved the Palm Springs look by bringing together layers of bold stripes, floral prints, pastels and embroidered textures with a bright pop of colour, as well as lots of white to keep things fresh; the key, don't be afraid to mix patterns and colours to enhance the natural surroundings.
If you'd rather be taken to a luxury resort, think Botanical! Palm tree prints, greens and navies paired with neutrals.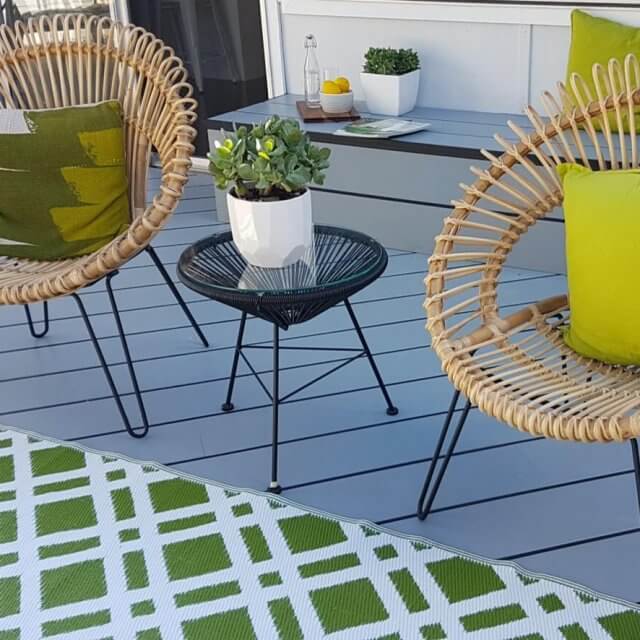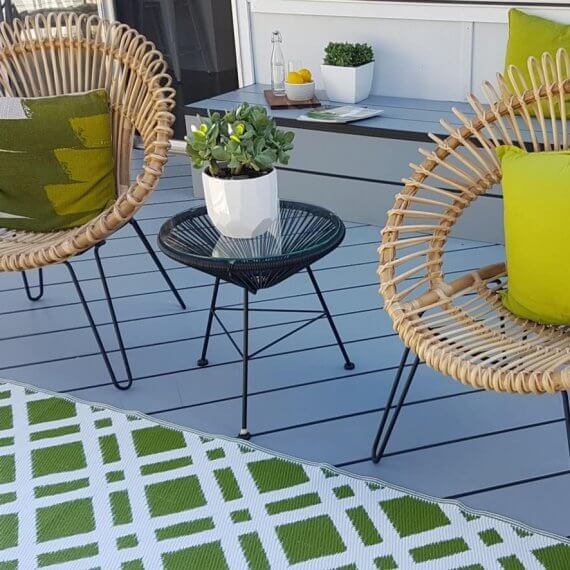 GREEN
Green is calming, rich, reflects Mother Nature and is said to reduce stress and enhance productivity. So why just rely on your natural surroundings to bring these qualities into your outdoor area. Reaffirm them with the use of green in your outdoor soft furnishings and pair with natural textures, such as beautiful cane chairs or wicker baskets.
Once you've created your own beautiful piece of paradise, and are ready to entertain, there are very simple ways to create ambience. Set the dining table with a few sensational pieces, bringing in various elements such as colour and texture. Use candles to bring warmth, and a touch of greenery to tie in with your surroundings.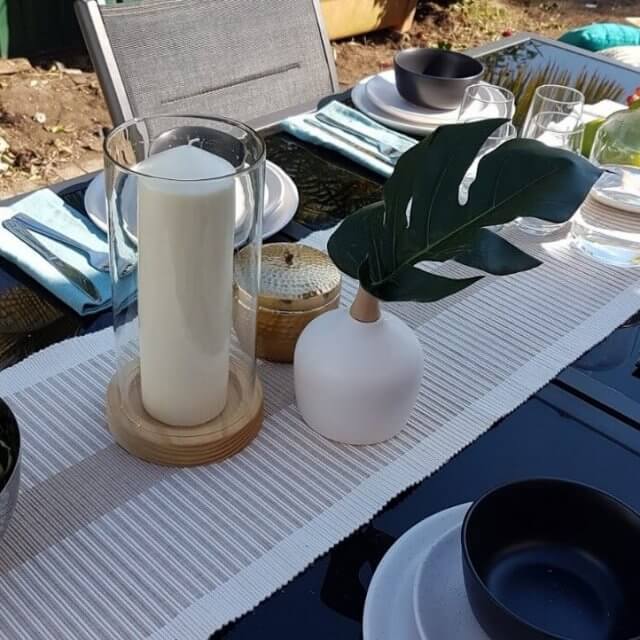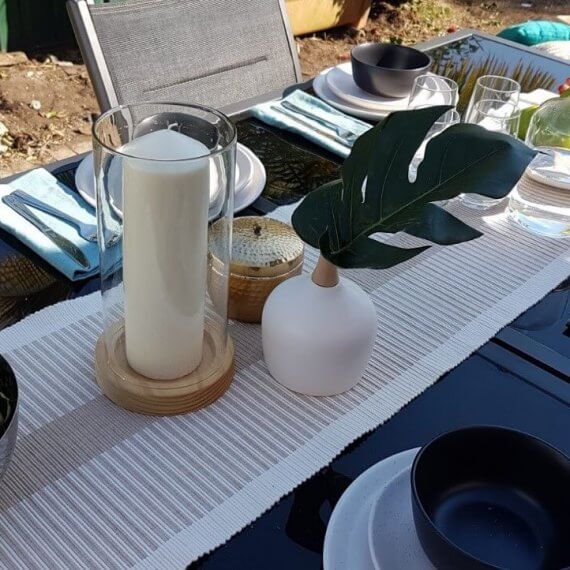 Don't feel daunted by all these elements and thinking you need to turn your outdoor area into a Tahitian paradise. You may feel the maintenance and upkeep is too much, if so, use one or a combination of the elements used in this blog. An inexpensive trick, if you are a renter for example, is to add ambient candles or fairy lights.
Whichever solutions you choose, you can be proud you will have created an oasis that becomes an extension of your home. Your own piece of paradise!